Dental Technology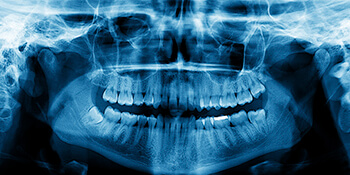 The marvels of modern dentistry make having dental work done easier and more rewarding than ever. Advances in digital imaging have made diagnostics more precise, while educational programs like the CAESY Patient Education System help dentists partner with their patients to improve oral health. Below, you will find a list of some of the technology we use. Dr. Leyferman invests many hours each year in continuing education to bring Flemington patients the state-of-the-art dental care they deserve.
Intra Oral Cameras Turn Patients into Partners
People seldom have a clear idea of the actual status of their dental health. Even with lights and mirrors, a patient can't see what the dentist can – that is, until now.
We use intraoral cameras, so when you visit the dentist, you can sit comfortably back in the chair and get ready for the show. The dentist or hygienist will insert a pen-sized, camera-tipped wand into your mouth. Covered with a disposable plastic sheath for contamination prevention, the wand simply takes a video of the inside of your mouth and transmits the images via cable to a computing unit. The computing unit enlarges the full-color images and sends them to a TV screen that you can comfortably view from the dental chair. Aha! There it is – your mouth on the screen. The dentist can point out problem areas and explain his recommendations for treatment, so you'll become an informed partner in your dental care instead of a clueless bystander.
Seeing your dental problems may seem overwhelming at first, but consider the experience the first step toward a healthier, fresher smile. The camera may reveal the early stages of potentially serious problems allowing you the opportunity to prevent small problems before they escalate. This is especially helpful with gum disease and conditions that cause damage without causing pain. The camera's honest survey can also show you how your regular home hygiene routine is paying off. The dental hygienist or dentist can recommend ways to improve your homecare based on their findings.
If you want to learn more about the technologies that enhance patient care in our office, call our Flemington dental practice today. We're always happy to explain the new innovations in dentistry and how they can improve your dental experience.
Digital Radiography
We've invested in a new way of looking into your mouth—a procedure that's fast, comfortable, and incredibly precise. Using digital radiography, we can clearly identify all external and internal anatomical structures and accurately diagnose your dental problems. Even more amazing, we can immediately translate that information into a large, clear, accurate image, projected to a monitor that patient and doctor can study together in the operatory. You won't even have to leave your chair. Digital radiography's technology improves and simplifies the way we care for our patients' teeth, resulting in better dental evaluations and treatment decisions. As the most important member of your dental team, you need to understand the condition of your mouth, as well as our recommendations for treatment. Digital radiographs help us help you.
Traditionally, dentists used X-rays to see what the naked eye could not; X-rays were developed in a darkroom with hazardous chemicals, and then viewed on a special light board. The developed X-rays had to be stored, which required large filing systems. By far, the worst part of traditional X-rays was the radiation exposure to patients. Digital radiography has completely transformed this process.
Now, when you come into the office for X-rays, a tiny sensor is placed in your mouth that emit small amounts of radiation – up to 90-percent less than traditional X-rays required. This creates a detailed image of your internal oral structures that is immediately viewable on a chairside monitor, carrying with it all the conveniences of other digitized images. We rotate and magnify it, adjust it for contrast, and even color-code it for educational purposes. The digital images store easily and efficiently in our computer files, safe and sound. For insurance purposes, referrals, or patient education, digital X-rays can be easily, inexpensively, and accurately reproduced indefinitely.
Digital X-rays offer unparalleled benefits over traditional radiographs: they're convenient, safe for the environment, provide a great opportunity for patient education, can be transferred and copied accurately, and best of all, they're safer for our patients. If you have questions about digital X–rays, call us. We'll do all we can to help.
Sedation Dentistry
We work hard to help patients feel right at home from the moment they arrive and building trusting relationships with each patient, but we know that some patients experience higher levels of dental phobia or anxiety and may need more advanced relaxation. That's why we offer dental sedation to help patients relax and enjoy their dental care. Dental sedation is also beneficial for patients who experience tooth, gum, or gag reflex sensitivity and those with physical or cognitive impairment that makes dental care unsafe or uncomfortable.