General Dentistry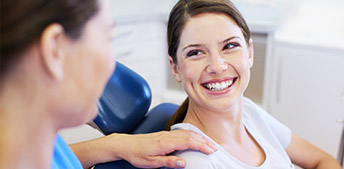 If someone told you that you could protect your physical health by maintaining your oral health, would you? The truth is, several serious illnesses can be caught during routine oral exams. As a general dentist, Dr. Leyferman understands the important role he plays in your total health.
Studies show that gum disease can increase your risk for heart attacks, strokes, respiratory problems, low-weight births, and it can cause complications for diabetics. Routine dental cleanings and an effective homecare routine, taught by our expert hygienist, can minimize your potential for developing this silent, chronic disease. Another serious condition, oral cancer, threatens the lives of thousands of Americans each year, so Dr. Leyferman screen soft tissues for suspicious lesions.
Because good oral health habits should begin early, Life Family Dentistry offers pediatric dentistry services to protect your little one's teeth at an early age. Bring your child in for a checkup around the age of three to become familiar with Dr. Leyferman and the dentist's office.
Whether it's time for your regular checkup or it's been awhile since you've had an exam, recommitting to your oral health by calling Dr. Leyferman can give you peace of mind. Our Flemington office treats patients from Hillsborough, Lambertville, New Hope, Ringoes and Somerset.
Your First Visit
At Life Family Dentistry, technology combines with compassion for the best in advanced dental care.
When you first visit us, we conduct a comprehensive exam including a tooth-by-tooth check for decay and a bite analysis. Digital X-rays and intraoral photos give Dr. Leyferman an accurate picture of your current oral health. An oral cancer screening and gum disease evaluation will complete your first exam. Our skilled hygienist will expertly clean your teeth and care for your soft tissues. She may also ask about your home hygiene routine to make sure you brush and floss effectively. A few simple technique changes could improve your overall oral health.
Call Life Family Dentistry today to schedule your first appointment. Our convenient Flemington office serves patients from Hillsborough, Somerset, Lambertville, New Hope, Ringoes and beyond.
Gum Disease Treatment
You may have never considered this, but your dentist can help reduce your risk for heart attacks, strokes, and respiratory conditions. Studies show gum disease to be a contributor to these and other serious illnesses, and millions of Americans have gum disease. In fact, gum disease is the leading cause of tooth loss for American adults. Dr. Leyferman recommends hygiene appointments every six months to protect oral and physical, health.
When plaque hardens into tartar, it irritates sensitive gum tissue and causes gum disease. When combined with bacteria from decaying food particles, infection can set in. If you have gum disease, your gums may be red, swollen, tender, or they may bleed when you brush your teeth. Some patients show no signs of gum disease, and only a trained professional can detect it.
If we determine that you have gum disease, our hygienist can help you manage it. Scaling is a technique in which we remove hardened plaque from below the gum line. Root planing is the careful smoothing of rough teeth roots to remove areas prone to plaque buildup. We may also administer an antibiotic or suggest you see a periodontist for specialized care.
Call the Flemington office of Dr. Leyferman today for a consultation. We treat patients from across the region, including Bridgewater, Lambertville, and Raritan.
Oral Cancer Screenings
Did you know that oral cancer will kill more than 8,000 Americans this year? In fact, this deadly disease takes more lives annually than cervical or skin cancers. People who habitually use alcohol and tobacco products are more prone to this serious health risk.
During your checkup, Dr. Leyferman will complete an oral cancer screening by inspecting the soft tissues in your mouth. When caught in its earliest stages, oral cancer has an 80-percent cure rate. Symptoms may appear as a white or discolored patch in soft tissues, a mouth sore that doesn't heal, or a lump or thickened area on your tongue or inside your cheek. Statistics show that in about 10-percent of cases, a patient's dentist finds the first signs of oral cancer. If Dr. Leyferman detects any of these or other oral cancer symptoms during your exam, he will perform a simple brush biopsy to help determine if surgery is indicated.
Call Dr. Michael Leyferman at Life Family Dentistry today for your checkup and oral cancer screening. Patients from around the area, including Whitehouse Station, Hillsborough, and Lambertville, rely on us to protect their total oral health at our Flemington office.
Children's Dentistry
The ADA's guidelines for pediatric dentistry recommend that your child visit a dentist at the age of three. Many adults don't realize damaged or decayed baby teeth can affect a child's unemerged permanent teeth. The sugary snacks and drinks your children enjoy contribute to tooth decay. To prevent oral health issues, Dr. Leyferman may recommend dental sealants and supplemental fluoride treatments for your children's teeth.
Dental sealants provide a protective coating for permanent teeth. However, if your child's baby teeth have deep grooves or crevices, Dr. Leyferman may recommend sealants for a child as young as three. Fluoride also protects teeth from cavities, so cities add it to their tap water. However, children who drink mostly bottled water don't get the amount of fluoride pediatric dentists recommend. We use fluoride treatments after each cleaning to provide further protection from decay. Our patient library offers more information.
When a child smiles, it lights up the whole room. At Life Family Dentistry, we love giving children healthy smiles. By offering nitrous oxide sedation (laughing gas), our patient and caring staff are skilled in reducing children's anxieties and helping them to have a fun, rewarding dental visit. Call the Flemington office of family dentist Dr. Michael Leyferman today to schedule your child's appointment. We protect the teeth of children from around the area including Bridgewater, Lambertville, New Hope and Somerset.