Restorative Dentistry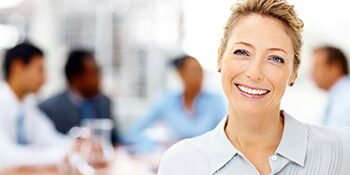 With a wealth of information available on the Internet, dental patients are more informed and health conscious than ever. Cosmetic and family dentist Dr. Leyferman provides a full array of proactive, restorative services that informed dental patients appreciate.
For cavity repair without silver amalgam, Dr. Leyferman uses a composite resin filling that blends into existing teeth. An aesthetic, porcelain crown brings back function to your bite and preserves a natural smile if you have decay too large for a filling. Because a missing tooth negatively affects your jawbone health and your bite, Dr. Leyferman uses a root canal to avoid tooth extraction.
If you've been living with tooth pain, call Dr. Leyferman at our Flemington office today. We protect the oral health of patients all across our area, including Readington, Somerset, Ringoes and Whitehouse Station.
Root Canal Therapy
How do you feel when you hear you need a root canal? Many patients dread the procedure, but modern dentistry can put your fears to rest.
As a family and general dentist, Dr. Leyferman is concerned about your comfort in all procedures, including a root canal. He offers oral conscious sedation for extremely nervous or fearful patients. Most patients find this mix of a common oral sedative to be so effective that they can doze off during the procedure! Dr. Leyferman usually completes Root Canal Treatment in just a single visit.
There's no need to suffer from severe tooth pain due to root canal fears. Patients from all over the area, including Whitehouse Station, Lambertville, and Readington know we provide compassionate, gentle care during our procedures. Call Life Family Dentistry at our Flemington office today to schedule your pain-relieving appointment.
Tooth-Colored Fillings
Did you know that your old amalgam fillings contain mercury, a hazardous heavy metal? To avoid possible health hazards, Dr. Leyferman uses natural-looking, white fillings to repair cavities and replace outdated amalgams for his image-conscious patients.
Tooth-colored fillings contain no mercury and are made of composite resin. Safe for children and adults, these fillings blend flawlessly into your existing dentition, preserving a natural appearance. Our patient library holds more information on white fillings.
Whether you currently need a tooth filled, or you'd like to replace your silver amalgam fillings, call cosmetic and family dentist Dr. Leyferman for an appointment today. Our Flemington office treats patients throughout this area, including Raritan, Hillsborough, New Hope and Lambert.
Dental Crowns
When serious tooth decay strikes, the damage could be too large for a simple filling. Dr. Leyferman may use a durable, aesthetic crown to return your smile to optimum health.
A tooth-colored porcelain crown will restore comfortable function to your bite while preserving your all-white smile. Because your crown is made in a lab, plan on two visits with Dr. Leyferman to complete your procedure. Care for your crown as you would your natural teeth, brushing and flossing daily. To repair damage in molars where your bite can create enormous pressure, Dr. Leyferman may use a porcelain-fused-to-metal crown. You can read more about crowns here.
If you have tooth pain, don't delay calling Dr. Leyferman at our Flemington office. We restore smiles for patients from around the area, including Bridgewater, Hillsborough, Ringoes and Raritan.