Prosthetics and Replacement Teeth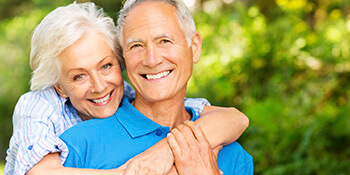 Teeth play an important role in your oral health, personal appearance, and quality of life. Without teeth, food choices become severely limited. The lips roll inward and cheeks sink creating an aged appearance. The jawbone begins to dissolve to the point that restoration can become difficult. Cosmetic and family dentist Dr. Leyferman offers a full line-up of replacement teeth options to return your functional bite and full smile.
For single missing teeth, dental implants provide an aesthetic, durable restoration that resembles natural teeth. If you have several teeth missing in a row, custom crown and bridgework can restore function and form. Considered the ultimate in prosthetics, implant-supported dentures restore a solid, healthy smile for patients who need a full set of teeth.
Whatever your oral health needs, cosmetic and family dentist Dr. Michael Leyferman will recommend solutions that fit your situation and lifestyle. Call our Flemington office to schedule your consultation today. Patients throughout the area, including Raritan, Bridgewater, New Hope and Lambertville know that we provide compassionate, caring dentistry.
Dental Crowns
If you're self-conscious about cracked, broken, decayed, or worn teeth, we can bring back your healthy, natural-looking smile with dental crowns, also called caps. A crown can return structure, strength, and function to a tooth with extensive decay or damage. Designed to fit snugly and function as a healthy tooth, a crown will protect your tooth from further damage and preserve the jaw's correct natural alignment.
We use precious metal, porcelain pressed (or fused) to metal, or all-porcelain crowns. To maintain a fully white smile, we recommend all-ceramic crowns. Our precise color-matching system allows us to find the right shade of porcelain to blend with your natural tooth color. Porcelain crowns are also extremely durable and long lasting, and these benefits make them popular with dentists as well as patients. Typically, we design, fit, and place crowns in just a couple of short appointments. Once a crown is placed, you can care for it as you do your natural teeth. Conscientious brushing twice a day and daily flossing will protect the base of your crown from bacterial growth. Be sure to see us at least two times each year for professional cleanings and a preventive exam, too.
Fixed Dental Bridges
If you've lost teeth due to accident, injury, or gum disease, we create a permanent bridge to restore your solid smile. A dental bridge not only fills the gap, but it also prevents repositioning of remaining teeth. It can also correct a misaligned bite, improve chewing function and speech articulation, and provide internal structure for the face to give you a more youthful appearance.
What is a Fixed Bridge?
First of all, a dental bridge is a prosthetic tooth (or teeth) that attaches on one or both sides to teeth prepared with dental crowns. A fixed bridge is permanently joined onto the neighboring abutment teeth (crowned teeth) and consists of three basic units: the false tooth or teeth (called a pontic) and two abutment crowns. The style of bridge we suggest will depend upon the strength and health the abutment teeth, as well as the location of the gap in relation to the rest of your dentition. If healthy adjacent abutment teeth aren't available, a surgically-implanted metal post, known as a dental implant, may offer a solid alternative. For a bridge that replaces many teeth, we may recommend a removable partial denture or implant-supported prosthesis. With proper care, a fixed bridge may last at least 8 to10 years.
If you have questions about crown and bridgework or any other dental prosthetic, call our Flemington dental office. We will be happy to discuss the options and schedule your evaluation.
Dentures
A solid, healthy smile makes living, eating, and smiling fun. You can laugh without feeling self-conscious, confidently get up-close-and-personal with your loved ones, and happily accept social invitations. If you need a full set of teeth replaced, Dr. Michael Leyferman may recommend implant-supported dentures for reliability and comfort.
Unlike traditional dentures, which require adhesives and can slip out of place, dental implant-supported dentures rest on solid titanium screws placed into the jawbone during a simple surgery. As the surgery heals, the jawbone grafts to the screw, providing the same stability as natural tooth roots.
Call Dr. Leyferman today to discover how dental implant-supported dentures can change your life. Our Flemington office is convenient to patients in Bridgewater, Ringoes, Somerset, and Hillsborough.